What You Need to Know Before Shopping
Discover the essence of our expertise and why we're the perfect fit for you.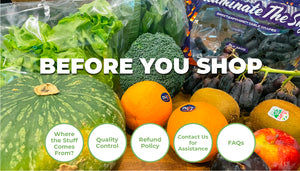 1. Where Stuff Comes From
2. Pay Less
3. Quality Control
4. Refund Policy
1. Where Stuff Comes From
2. Pay Less
We believe in the power of conscious choices. By choosing our products, you not only enjoy great savings but also contribute to a greener future. Together, let's embrace sustainability and make a difference, one purchase at a time. Join us on this journey towards a more eco-friendly and budget-friendly lifestyle.
3. Quality Control
We prioritize your satisfaction by implementing meticulous quality management processes. Each order undergoes thorough scrutiny, ensuring that only the finest products reach your doorstep. If an item fails to meet our stringent quality standards, rest assured that we will promptly notify you, sparing no effort to provide you with the best possible experience.
4. Hustle Free Refund Policy
Here's what you need to know about refunds:
Items spoilt within 3 days are eligible for refunds.
Unsure about the condition? Reach out to us for assistance.
If an item consistently spoils after delivery, consider pausing purchases to maintain refund eligibility.
Refunds may not apply if an item spoils more than 3 times consecutively.
We aim to process refunds within 3 working days, subject to your bank's processing time.